Associated Press
More than 100 others injured, say authorities, as attackers using guns and suicide bombs storm base, with army operation launched in response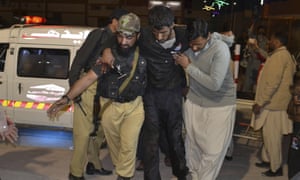 A team of up to six gunmen killed more than 40 people with guns and suicide bombs at a hostel housing hundreds of police cadets in the Pakistani city of Quetta.
Reports quoting government officials said at least 48 people including cadets had been killed and at least 106 people wounded in the attack on Monday night. Some reports put the figure at more than 50.
The army's public relations department said five or six militants attacked the police training centre on Saryab Road in Quetta, the capital of Balochistan, a troubled province home to a separatist insurgency and numerous Islamist groups. Soldiers and members of the Frontier Constabulary, a paramilitary force, responded to the attack, the army said.
The Baluchistan home minister, Sarfaraz Bugti, said on Tuesday morning that security forces had completed their operation but were still engaged in the cleanup process.
Bugti said that at the time of attack about 700 trainees had been at the base and more than 200 were rescued immediately afterwards.
Major General Sher Afgan, chief of the paramilitary Frontier Corps, said the attackers appeared to have been in contact with handlers in Afghanistan and suggested they belonged to the banned Lashker-e-Jhangvi, an Islamic militant group affiliated with al-Qaida.
Afgan said the attackers may have had inside help, although he did not give details. "This is an open war and when you have enemy inside and outside, they can easily exploit the situation," he said. Security forces and police were clearing the area and searching for any possible hidden attackers.
Many of the trainees were killed when the gunmen detonated explosive vests, Afgan said. One of the police trainees told Geo television: "They were rushing toward our building firing shots so we rushed for safety toward the roof and jumped down in the back to save our lives."
Zarak Khan, a rescue worker from the Edhi foundation, said rescuers initially collected the wounded among security personnel as they fought their way into the compound. The 14km distance between the hostel and the Quetta hospital hampered the rescue effort.
Most of those being treated at city hospitals had gunshot wounds, although some sustained injuries jumping off the roof of the hostel and climbing a wall to escape the gunmen. Nearly all of the wounded were police; two were paramilitary troops, authorities said.
The Dawn newspaper website reported exchanges of fire between security forces and attackers, with explosions heard around the area. Some local media outlets also ran unconfirmed reports that hostages had been taken.
Mobile phone services in the Saryab area shut down shortly after the attack .
Credit Associated Press